folder basename : insole
parent folder basename : product
has parent : 1


Off-the-shelf shoes definitely require insoles to match your feet shape. So, we are developing various insoles to fit all kinds of shoes.
This is a special offer you shouldn't miss.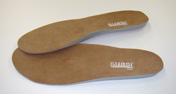 Insole that match the bottom of your foot precisely!
We use data captured by our 3D scanning unit to re-produce your foot bottom shape precisely. The resulting molds are made by our technical staff one at a time. The insole supports the three main arch points on the bottom of your feet, providing the best support
imaginable.
Ordering Process



Semi-custom Thermoplastic resin Insole
Designed with the foot's bone structure in mind -Alignment-
We align the insole based on structure of the foot bone.
We make the toe part thinner than in other places. The result is an insole that uses a thermoplastic resin that allows easier movement of your toes within your shoes.
Designed to support any subtle movement -Flexibility-
Built in springing action provides insole support as you strike the ground.
We built the smoothly-curved insole at the same position as flexion of forepart of the foot, by cutting a thermoplastic resin before Metacarpophalangeal joint.
Designed to a high level of stabilization -Stability-
A thermoplastic resin patch is mounted in the heel section. This is high stability and helps reduce torque caused when your heel strikes the ground when walking.
This produces a smooth, forward walking motion from heel to toe.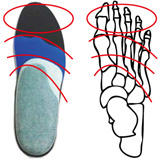 Example of Insoles' Results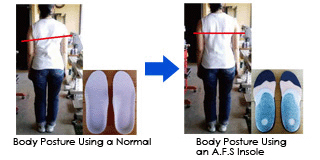 When using a normal "cup" insole, the examinee's shoulders are naturally inclined to the left. After inserting the A.F.S insole, the left and right shoulders become the same height.
Feel free to contact us about any questions you may have concerning any of our products.
Application Form