folder basename : measure
parent folder basename : product
has parent : 1


When suggesting to your customer to measure his/her foot, and why don't you increase the accuracy of it as well as customer satisfaction?
Our device allows you to show your customer directly the actual shape of their foot.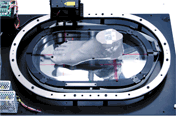 Accurate and Speedy Measurement
The laser scanner rotates around your foot and measure more than 30,000 points,including the ankle, instep, heel, toes, as well as the sole, re-creating your foot shape precisely.
It takes only 13 seconds.
Soon after measuring, compilation of the 3D image begins.
The 30,000 pieces are data are assimilated together to give the most precise 3D image of
the foot. Adjustments to the data are possible to view from different angles as well as actually changing the completed image.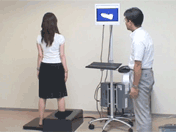 It must be done in bare feet
Place your right foot first into the device.
Be sure to stand as straight as possible with little movement
Scan. It takes approximately 13 seconds.
Now do the left foot.
Print out data.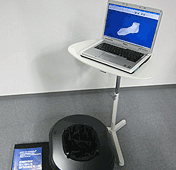 Carry type [CUTE] JMS-2100CUWeight of Main Device: 12kg or 26lbs
Portable and can be taken anywhere, events, exhibitions, around your store.
Not only it is light, but smaller.
A medium-sized suit case can store this machine.
You can connect by using 2 USB cables to your laptop computer.
Easy to handle, easy to use, even for your staff who are not so familiar with computers
You can choose from 5 colors to match the interior of your shop. (additional charge)
Your company's logo can be added to give it an original look.
Any other inquiries about devices of any kind are gladly welcomed.