folder basename : shoes
parent folder basename : product
has parent : 1


Through the Use of Input Data, Better Customer Satisfaction
For your customers who are not happy with off-the-shelf shoes and require specific shoes made especially for their feet. We are also in the process of developing a mock system for these customers. Through the use of inputted data, we are making a market system that will aid in the selling of off-the-shelf shoes and also supporting to make "Wooden Shoe Lasts".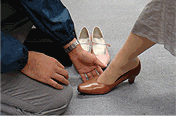 Suggestion for Customers Who are not Satisfied with Off-The-Shelf Shoes
Based on the measurement data, the customer chooses the nearest size from trial samples as well as the shoe's width.
Colors,Designs,Sizes and Wide Selection
Customer can choose from many colors and designs, and also has the luxury of choosing different sizes for each of the left and right feet. We provide a manual for the procedure from the start of the foot measurement to the actual finished product, the shoe.
Lectures are available for interested customers willing to introduce our devices within their stores or shops.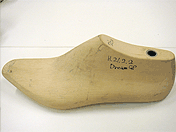 You can transfer measurement data to CAD quite easily.
You can also use 3D measurement data for shoe last designing system and other shoe designing with extension device.
Digital Input Increases Efficiency of Work
Modifications to digital data of wooden shoe last are possible and can be kept on your computer, This results in better efficiency.
Digitization of wooden shoe last allows you to standardize the designing procedure, data management, while minimizing shoe last complement.
Digital Transfer to Make Insert
We can make wooden shoe last by computer for you. Just send us the 3D measurement
data.
Ok, then. Who wants some order-made shoes?
Feel free to contact us about any questions you may have concerning any of our products.
Application Form